Our Cars: BMW 330d xDrive Touring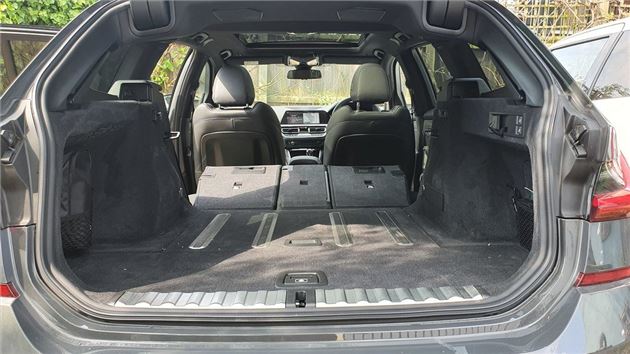 7 February 2020: Why the 3 Series Touring wins the space race
The Details
| | |
| --- | --- |
| Current mileage | 3776 |
| Claimed economy | 49.6-51.4 |
| Actual economy | 43.1mpg |
It might be a compact premium estate, but the 3 Series Touring has more than enough in its trunk to cater for my family. And the useful hatch window has proven to be a really handy tool for getting things in and out of the BMW when space is in short supply outside of the car. 
One of the criticisms of the old 3 Series Touring estate was its compact boot. BMW has addressed this by making the boot 112mm wider than its predecessor, while the opening aperture is 30mm higher and up to 125mm wider in its upper section. In short, the boot if bigger.
Total space is a respectable 500 litres (five litres more than before) which means the 3 Series Touring is a smudge short on the 505 litres you get in the Audi A4 Avant. However, compared to the Mercedes-Benz C-Class Estate (460 litres) the 3 Series Touring is miles ahead. 
For example, you get a 1804mm load length from the boot lip to the front seats, which means it is superb for moving bulky items. You also get a useful 1372mm behind the wheelarches (965mm between them) and a load deck that measures 1067mm when the rear seats are up. You can also split the rear folding seats, which lets you carry one or two passengers in the rear while utilising the full load length of the car.   
Getting the seats up and down is quite easy, with switches either side of the seat tops. You simply pull the switch in and the seat lowers itself in a controlled manner. It does require a strong arm to push them back  in place (there's no button for that) but all-in-all I think most people will cope. 
The true bit of brilliance is found with the rear window hatch which can be opened independently of the tailgate. This is really useful when there isn't enough space for the rear tailgate to open or you are fearful it may catch a loose branch from a three or scratch itself on low ceiling at a multistory car park.
Like its rivals, BMW also includes an automatic tailgate system that opens the boot with a foot motion. This is actually standard across the Touring range and it causes more problems than it solves. For example, when you need it to work, it refuses to open the boot. Yet, when you are washing the car, it will kick into operation the moment you wave a soapy sponge in its direction and fill the boot with water.
However, as a modern packhorse, the 3 Series Touring feels larger, wider and more practical and its predecessor. And it also gets some useful compartments in the boot floor for stowing away the luggage covers, which means there is less chance of taking them out and leaving them in the B&Q car park by mistake.
« Earlier: Door mirror problems solved, faulty steering fixed