Lexus RX 450h 2019 Road Test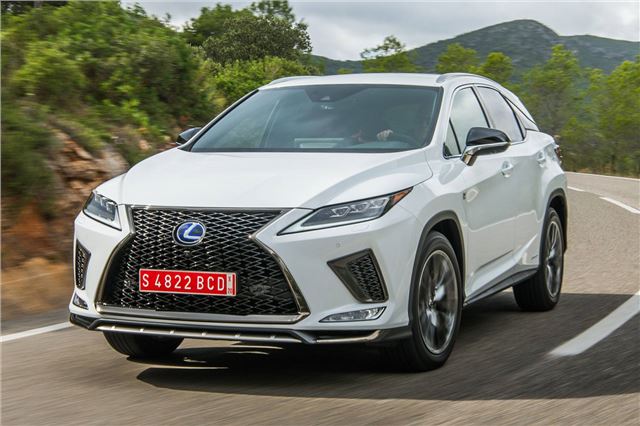 While rivals like the Volvo XC90, BMW X5 and Mercedes-Benz GLE all have greater showroom appeal than the Lexus RX 450h, it now makes a more compelling case than ever before. Combine a smattering of updates with a fashionable hybrid engine, a comfortable ride and a reputation for excellent reliability, and the Lexus RX is now a very strong contender.
Changes for the 2020 model year are minimal. Cosmetic updates include slimmer headlights, tweaked bumpers and a revised grille, while the interior gets an updated media system including Apple CarPlay and Android Auto - a first for Lexus.
Mechanically, little has changed. There's still a 3.5-litre V6 petrol engine combined with an electric motor powering each axle. The result is a total output of 312PS and a 0-62mph acceleration time of 7.7 seconds. Of more interest for most buyers will be its fuel consumption figure of around 35mpg - a number that should be fairly achievable according to our Real MPG data.
It's a very relaxing car to drive. It'll set off in silence, without the usual intrusive vibration caused by stop-start systems fitted to a petrol or diesel SUV. Lexus makes some bold claims about how long the car can run under electric power, but you'll struggle to see more than one or two miles of town driving without the petrol engine starting up. If you want to travel further without any tailpipe emissions, you'd be better looking at a plug-in hybrid like the Volvo XC90 T8 - but then you'll have the hassle of charging.
When the engine does kick in, you'll hardly notice it. Refinement only takes a knock when you're heavy with the accelerator - a trait of all vehicles equipped with a CVT automatic gearbox - but generally it's every bit as quiet as you'd expect from a luxury SUV. Indeed, on the motorway, wind and road noise is minimal.
Noise from the engine aside, the RX has plenty of power for overtaking or negotiating steep inclines, while its ride quality is excellent - especially when Lexus's new adaptive variable suspension is fitted (standard on our F Sport test car). Even with the standard suspension setup, the RX rides superbly, smoothing out the bumpiest of surfaces and providing a very relaxing ride.
There is a predictable trade-off in terms of handling. Even with the firm's new active cornering assist feature, which is designed to reduce understeer during cornering, the RX isn't as sharp to drive as a BMW X5 or Range Rover Sport, with light (slightly vague) steering and plenty of lean if you take corners enthusiastically. That's not its intention, though - it's unashamedly a soft, relaxed SUV.
The interior is largely unchanged yet very comfortable, with wide seats and that desirable high seating position. Front seat passengers won't have any reason to complain - and neither will those travelling in the rear. There's plenty of space in the back for a pair of adults, and a third at a push. There's no awkward lump in the middle of the floor eating into foot space, while the rear seats also recline should you fancy a kip.
There are just five seats in the RX (you'll want the slightly bigger RX L if you need seven seats), although it's still a fairly practical choice. We say 'fairly' as the boot's a relatively small 453 litres with the rear seats left up. That compares poorly against rivals like the Audi Q7 and BMW X5, but access is relatively easy and there are lots of useful stowage areas in the cabin.
In terms of quality, it's hard to criticise the RX. It feels very well made, with lots of soft-touch materials and an impressive attention to detail. That said, it does feel a bit dated alongside newer rivals, and there are a plethora of buttons. You may prefer this to an overly-complicated digital infotainment system, however.
While the media system isn't the most polished on the market (rival systems are more intuitive and look more impressive), it's now a touchscreen which means it's easier to operate than before. It can also be navigated using a trackpad positioned on the centre console, although this is more fiddly than it needs to be.
The Lexus RX will continue to appeal to a fairly niche audience. It's not as practical as rivals, it's nothing special to drive and many buyers would still be better suited to a diesel (or, potentially, a plug-in hybrid). That said, the RX is more relevant now than ever before. With low running costs, a reputation for reliability and improved infotainment, the RX might be the choice for you.
The Lexus RX 450h is on sale now with deliveries expected from early 2020. Prices start at £52,705.