MG HS 1.5 T-GDI 2020 Road Test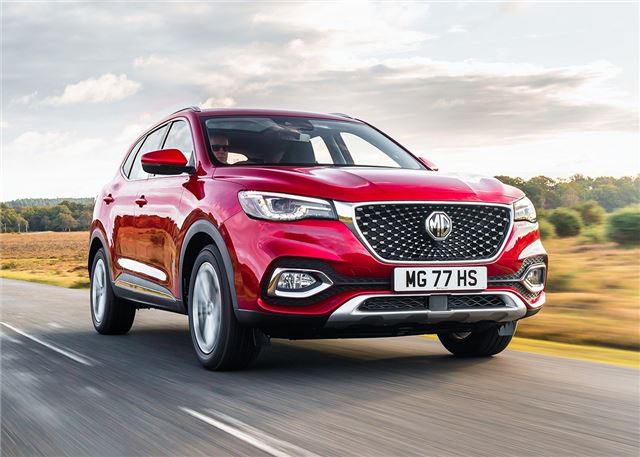 Proof that you don't need to splash the cash to get behind the wheel of a spacious and comfortable SUV, the MG HS matches its pricier rivals for comfort and practicality while undercutting them on price. However, while some buyers will be wooed by the spec, MG still lacks the quality to challenge its key rivals.
To be fair, MG seems to be quite content to be making a (new) name for itself as budget SUV brand that cuts costs by building its cars in China and passing on the savings to its customers in the form of lower prices and generous levels of standard equipment.
The MG HS is a textbook example of this, with its seven-year warranty and £17,995 starting point putting it miles ahead of the Nissan Qashqai and Skoda Karoq. You won't have to raid the options list to get the best out of it either because the HS comes absolutely loaded to the brim with kit.
There are three versions - Explore, Excite and Exclusive - but even the most basic model gets LED daytime running lights, 17-inch alloy wheels, cruise control and a 10-inch infotainment system with Apple CarPlay and Android Auto connectivity. There is also a huge level of active safety tech, which includes blind spot detection and a rear cross traffic alert system.
The quality of the cabin is genuinely impressive. MG has obviously listened to UK customer feedback and reduced the levels of hard scratchy plastics. This means the dashboard is covered with lots of soft touch materials. Build quality is high, too; there are no creaks or squeaks from the plastics or door cards as you travel over rough road surfaces, which is more than can be said for one or two of MG's SUV rivals. There are some nice styling touches too, with turbine design air vents and mood lighting (the latter standard on Exclusive trim). 
The HS offers lots of space, which means it's well-suited for life as a family car. The rear seats, for example, have lots of head and shoulder space and this means this MG will have little trouble accommodating a family of four. The boot has a wide opening and low loading lip, which makes it easy to load heavy or bulky items in. There is 463 litres on offer too, which can be expanded to 1454 litres of flat space when you lower the rear seats. 
However, while MG ticks all of the family car boxes when it comes to price, comfort and space, the HS falls short on refinement and handling. Indeed, as a driver, you do not have to look very far to find the weak points in the HS package.
The turbocharged 1.5-litre engine, for example, is noisy and emits quite a lot of vibration through the steering wheel and pedals when pressed. This means joining a fast flowing road is a rather unpleasant experience. The overpowered steering also lacks meaningful feel, which means the HS is a car that seldom feels engaging. 
It could be argued that SUV buyers seldom care about handling, but even by these standards the HS is below average. The 1.5 petrol has a few flat spots under acceleration and this means the HS feels occasionally underpowered, especially when tackling hills. In our opinion the 1.5 TSI petrol in the Karoq (even with its reported hesitancy issues) is a far superior engine. The Skoda also feels more planted, with less body roll and pitching in the corners.
All versions of the HS get lane guidance systems, but during our test drive on A and B roads we found these to be intrusive and distracting. During our test the systems switched themselves on and off at will, which means they have a habit of surprising the driver when they suddenly come back into play. Admittedly, things do improve on the motorway, but it's been a long time since we have experienced a car with driving aids that are so poor on UK roads. 
MG buyers will probably take these criticisms with a pinch of salt, given the value on offer here. And we do accept that many will be willing to live with the stodgy handling and unrefined powertrain, given the low list price and comprehensive seven-year warranty. 
SUV buyers who want a comfortable, fun and engaging family car will be better suited with the excellent Skoda Karoq. And those who want a bargain basement family car may find better value with a pre-reg Nissan Qashqai. However, for those in the market for a comfortable SUV with a huge warranty, the MG HS will be worth considering. 
The MG HS is on sale now.